So Hugo isn't Sleepy very well at night : But he sure is making up for it in the day time - he couldn't do this position wearing his Boots & Bar
OK so I have openly shared about how hard the last few days have been with Hugo & his boots & bar...
I had to give myself a good shake because my negativity was getting both of us NO WHERE! So after a night of positivity & Ideas Here is what worked for us !
If you're new to my blog take a look at the Talipes tab at the top - I'm all about Talipes awareness.
We put Hugo's Boots on his Teddy Bear - & had a crowd of bears, cows, dolls, to watch & share the excitement. Hugo Loved his bear wearing hos boots & bar - Mummy on a mission shows how that experiment went...
Bear wearing his boots & bar
As soon as I tried to get his boots & bar on Hugo he had a huge meltdown.
he managed to scamper off with just his boots on - I call them his 'Robo boots' He found it FUNNY!
We managed to get them on : but IT WAS A FIGHT : Here he is telling Molly our doggy all about it.
The Big Sister Challenge : I had tried before when Hugo was kicking up a fuss about his Boots & Bar - I'd say "OK Hugo Mummy wear them... Or OK Hugo Emilyn wear them" He was never really bothered. So This day I thought we need a bigger impact now his boots are a bigger size Emilyn can fit in them better. We got her wearing them she was jumping around rolling around It was Hilarious we were all laughing Including Hugo :
Emilyn jumping in the Boots & Bar
Hey what do we know? Hugo let me put his boots & Bar on with no problems! Hurrah!
Last night we saw Puppet help Hugo with his boots - Not this exact Puppet We have a Cow puppet that's part of a book, This Puppet it about £13 or so pounds from ebay, I think it will be well worth the money. Puppet will be firm friends with Hugo's Boots & bar & puppet will get given a name & puppet will help Mummy put boots & bar on every night. My firm favourite.
Perfect Puppet for helping with Boots & bar
I have more ideas Including writing my own small Boots & Bar book to help at night times.
Also I'm in the process of trying to get help in producing a Teddy bear who wears Boots & Bar similar to Build a Bear ones?
We need to regain normality into the Harding household 9am naps are not normal for this little guy.
It's the Magic Moments in life.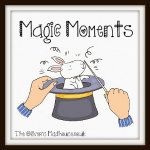 #MagicMoments